Welcome to the world of Aleenta. It's a world created by pioneers who blazed trails down roads less travelled to create havens of barefoot luxury, simple elegance and stylish design.
Aleenta Resorts & Spas are intimate, private and award-winning boutique hotels with suites, pool villas and lavish beachfront retreats united by their celebration of life's finer things that exemplifies the essence of 'Epicurean', spa experiences informed by a philosophy of wellness that works, a menu of Aleenta experiences crafted so that guests might make deeper and more meaningful connections with the destinations and their communities.
Aleenta Resorts & Spas are located on some of Thailand's most beautiful and unspoiled 'secret beaches', where chic contemporary design and unobtrusive yet intuitive service complement warm and friendly Thai hospitality.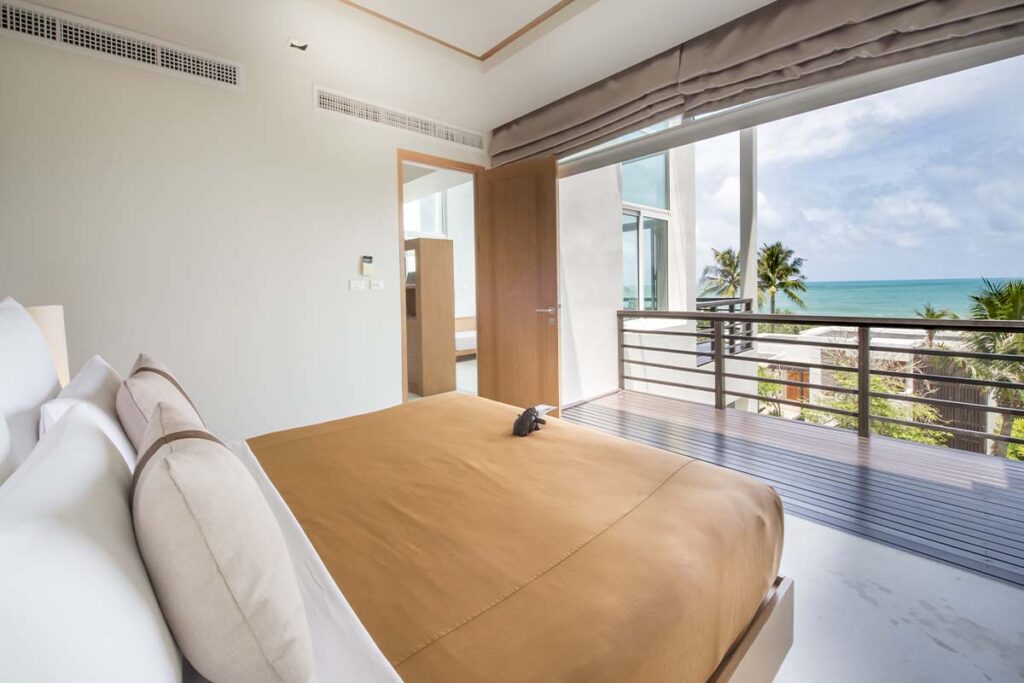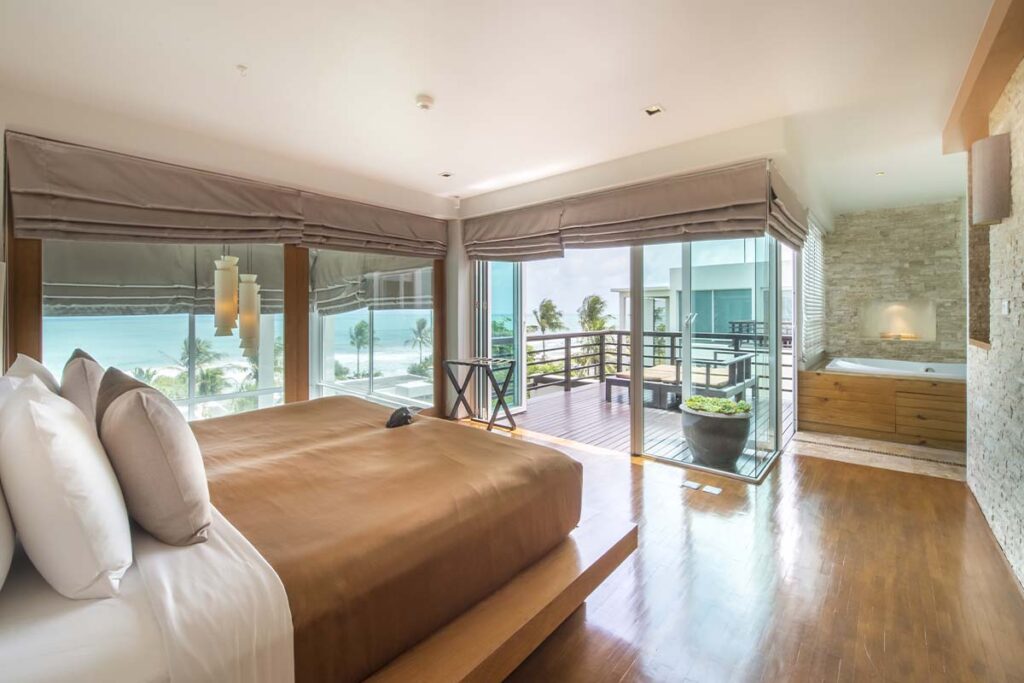 LUXURY SEA VIEW VILLA WITH PRIVATE POOL
2 BEDROOM POOL RESIDENCES
PHANG NGA, PHUKET
Expansive and unique two bedroom residences, offer comfort and privacy… each with a private pool, individually styled but with uncompromised and intimate luxury Aleenta is known for.
Two bedroom residences are individually designed villas with en suite bath, Western-style modern kitchen, large dining and living areas – opening onto vast wooden sundecks with the top floors displaying uninterrupted Andaman Sea views.
Each residence features a private swimming pool and total privacy. (300 sq. m.)
LUXURY SEA VIEW SUITE WITH PRIVATE POOL
1 BEDROOM POOL RESIDENCES
PHANG NGA, PHUKET
Private luxury and panoramic Andaman Sea views with the comfort of home… A luxurious Pool Residence combines indoor and outdoor living space – one bedroom, living room and dining room space – to captivate your days and nights.
The Pool Residence is unique in style and comfort with a full sea view. This one bedroom deluxe junior suit comes with private pool, en suite bath and Jacuzzi, sea view, private sundeck, outdoor living areas, separate dining room and living room (200 m²).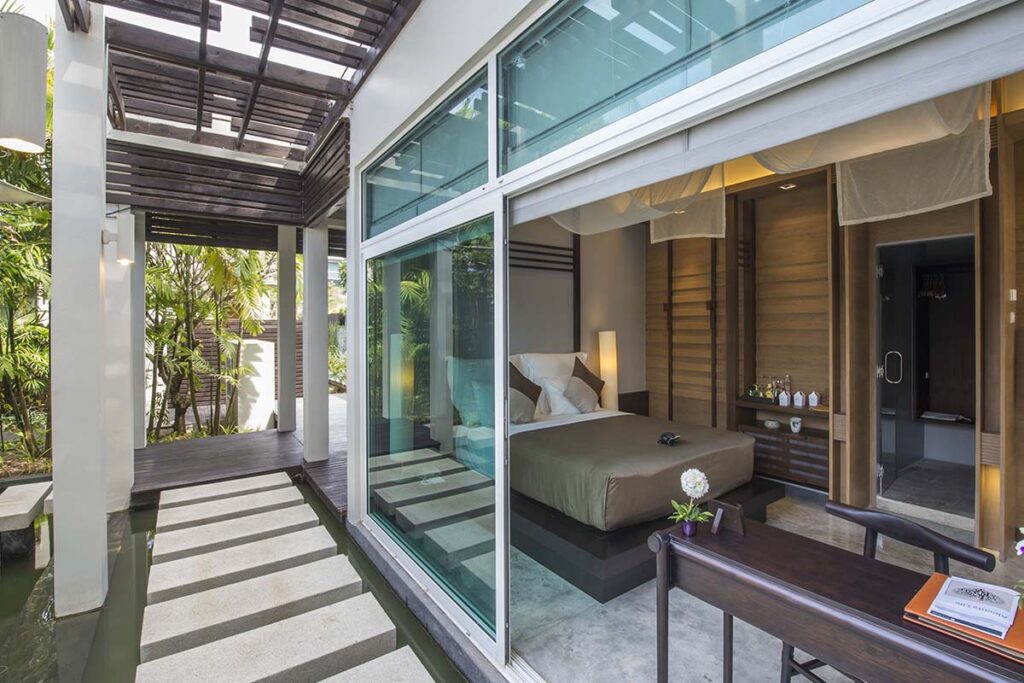 LUXURY RESORT SUITES WITH PRIVATE POOL
PHANG NGA, PHUKET
Embrace the ocean breeze…directly on the beach with your own private seven meter pool. Luxury can be so simple.
Aleenta's signature  pool suites are right on the beach. Designed with an 'Outside-Living-In' concept, the suite features floor to ceiling retractable glass walls to allow a full view of the Andaman Sea; each with private pool, private jacuzzi and beach terrace. (71 sq. m.)
ONE BEDROOM LUXURY RESORT SUITES
PHANG NGA, PHUKET
The Aleenta Suites are located within the resort and are footsteps away from the the white powder sands of Natai beach, the suites follow the Aleenta Outdoor Living-In concept with a natural free flow from indoors to outdoors.
One bedroom Aleenta suites are perfectly located in the resort to allow for easy and convenient access to all facilities. Luxurious amenities coupled with outdoor baths and showers.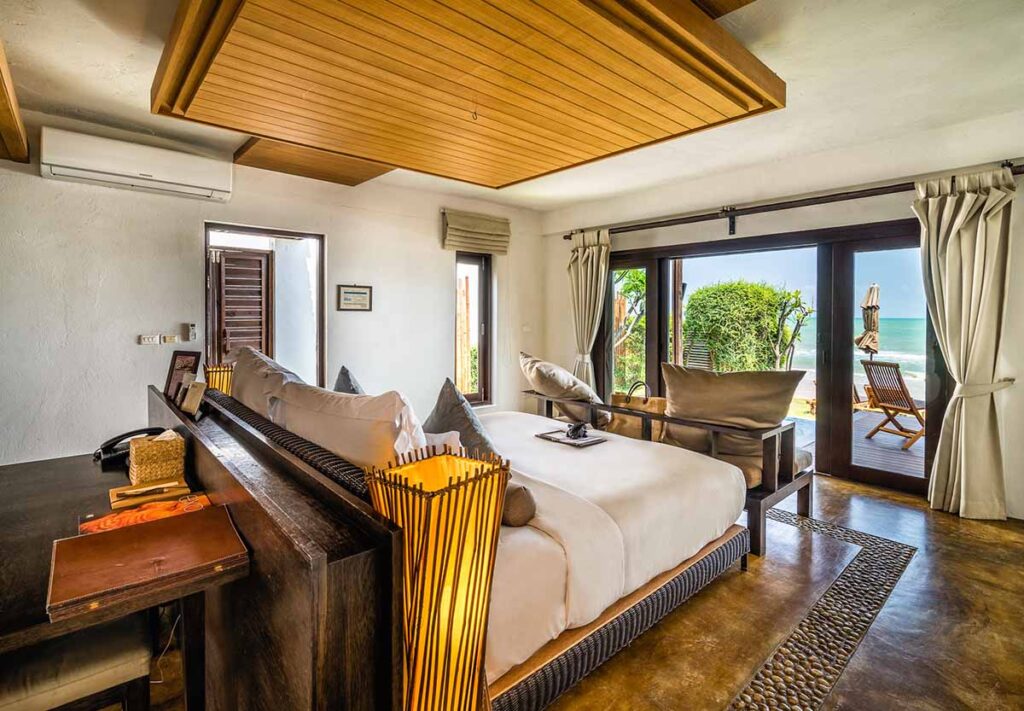 ALEENTA HUA HIN RESORT LUXURY ONE BEDROOM OCEAN VIEW RESIDENCE / SUITES
Just steps away from the seafront, embodying Aleenta's inside living out philosophy, each Ocean View Residence is individually designed with its own unique character.
The intimate, one-bedroom residences are discreetly tucked away with two ocean view residences on the ground level and three residences located on the first floor of the main resort wing.
ALEENTA HUA HIN PALM POOL RESIDENCE SEA FRONT LUXURY RESIDENCE WITH POOL, JACUZZI.
Spacious, romantic and opulent, the Palm Pool Residences are set back from the beach with an immaculate lawn leading to the waterfront offering privacy and intimacy in a personal garden – a perfect example of Aleenta's inside living out concept. The Palm Pool Suites each feature a plush king size bed, jacuzzi and plunge pool.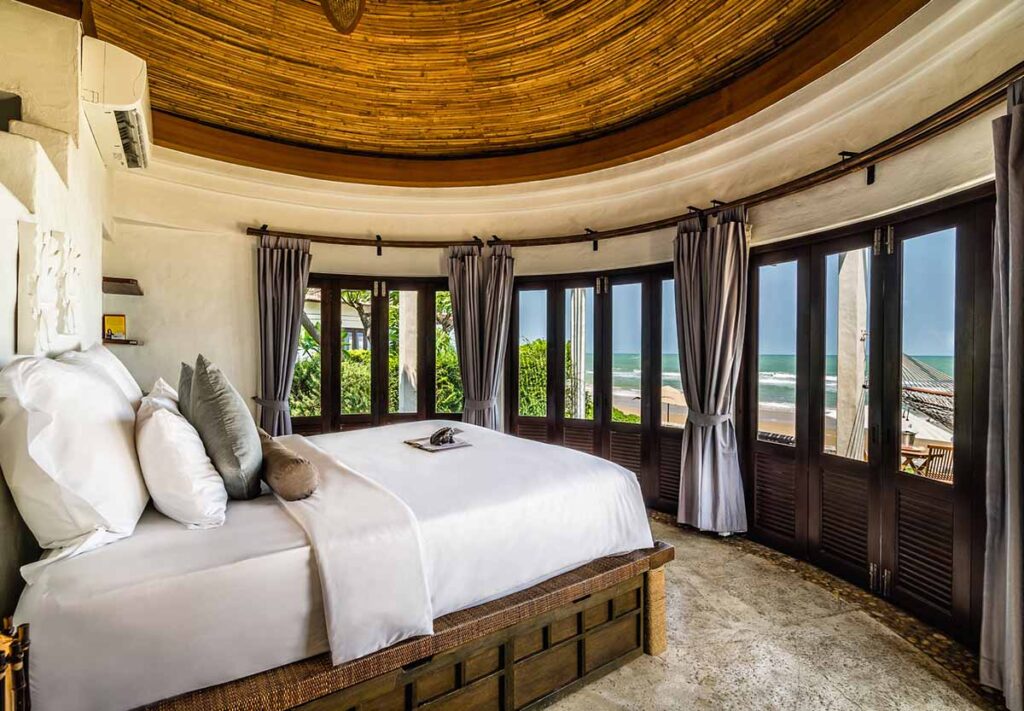 ALEENTA HUA HIN FRANGIPANI RESIDENCE LUXURY RESIDENCES WITH SUNDECK, SEA VIEW AND POOL ACCESS.
Frangipani Residence at Aleenta features a total of four units, each unique in design to create varied experiences for our guests. Frangipani Residence offers large living space and bedroom with pool access, a private sundeck and sea-view terrace. All bedrooms feature king size beds.
ALEENTA HUA HIN POOL RESIDENCE LUXURY ONE BEDROOM SUITES ON THE BEACH, PLUNGE POOL.
Aleenta Hua Hin Resort & Spa offers a choice of romantic accommodation by the sea. The exotic, one-bedroom, thatched roof Pool Residence comes with your own private plunge pool and are set directly on the beach offering simplistic barefoot luxury with captivating ocean views. The Pool Residences are designed for total relaxation with plush king size bed and private jacuzzi's.